Composite screen is a commonly used type of screen for drilling Mud Shaker. It is made of stainless steel wire mesh, plastic flat mesh and galvanized sheet. Its common specifications are 1165x585mm, and the mesh number is 20-320 mesh. The composite material screen has the advantages of long service life, good screening effect, low screen use cost, convenient disassembly and assembly, large liquid conductivity, good sand (slag) discharge effect, and long life. Composite material screen is the Ideal accessory on shale shale, desanders, desilters.
The iron frame screen is mainly composed of 2 to 3 layers of stainless steel mesh with the steel frame tightly combined on the frame. The frame is welded by high-strength square steel pipe or flat steel, and has a plurality of reinforcing support ribs. The mesh can be combined with the frame through metal glue, or directly bonded to the frame. The high-strength steel frame and support ribs, as well as the moderately tensioned screen, form a reliable whole, which greatly enhances the flow, strength and service life that the screen can withstand. The mesh number of each layer of mesh cloth is different, and the accurate and reasonable matching can make the screening effect more detailed. The mesh is divided into multiple independent small mesh surfaces to prevent excessive expansion of localized damage. At the same time, it is equipped with a special rubber stopper to repair the damage, which can save time and reduce the cost of use.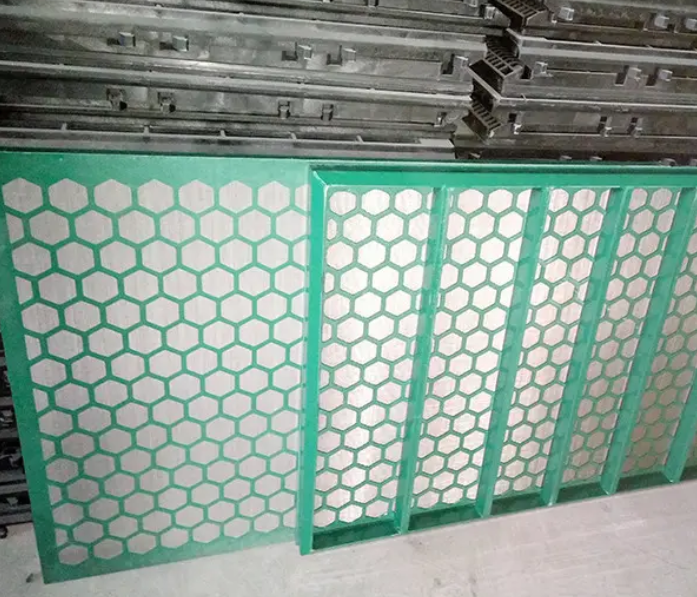 As a professional manufacturer of drilling solids control equipment, KOSUN not only designs and manufactures conventional solids control equipment, including: shale shaker, desilter, centrifuge, agitator, and mud tank, but also supplies these equipments various accessories, including: various specifications of screens and vibration motors for mud shale shaker, cyclones for de-sanding and desilting, drums and screw propellers for centrifuges, tank bottom valves for mud tanks Various types of guns, etc.
KOSUN- China Solids Control Leader&Drilling Waste Management Expert
Email: sales2@adkosun.com
WhatsApp/Wechat:+86 18792396268
Contact person: Lily Wang
Online consulting:
http://www.kosun.com
http://www.kosuneco.com